I recently purchased a pair of AbbyShot Max gloves with my jacket. A while back, I bought a pair of the "vintage AHRMA/Mad Max" gloves from Motobiker on eBay (
http://tinyurl.com/yjzsatr
). And this might surprise you, but I prefer the Motobiker gloves.
The AbbyShot gloves are quality, made from a soft, supple leather, which Max's appear to be. They're lined with a fleece-type fabric. I ordered them in size XL per the chart on their website, but there's a little too much room inside for me. The end result is a glove that feels like a nice winter glove,
not
a driving glove. Considering they're based in Canada, it's no wonder they make their products (the Max jacket included) to withstand the cold; for a SoCal guy like me, it's not so desirable.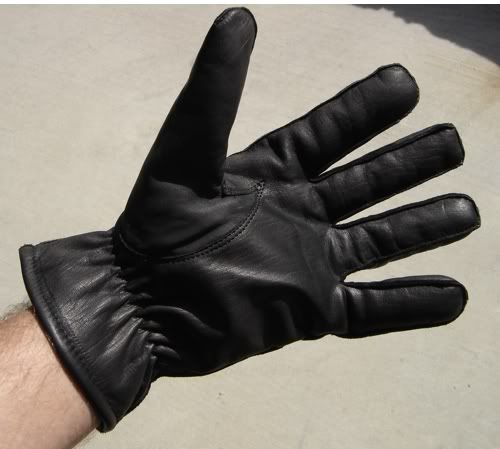 There is elastic at the wrist on the palm side only. The "finger protection" (padding) stitched onto the back of the gloves is more screen-accurate in that there's not one on the thumb (as there is on the Motobikers); otherwise they don't look much like the padding on Max's gloves. Also, they appear to be neoprene (fabric side up) and half the height of the foam rubber on the Motobikers (and Max's). The fabric on the neoprene is already starting to curl. The more I look at these gloves, the less I like them.
Approx. $52 US plus shipping.
The Motobiker gloves (there's no name brand, so I'll use the name of the eBay seller) are made of a rougher, stiffer leather, and are completely unlined. I ordered them in size L and they're slightly too snug, but they feel more like driving gloves. They have stitched elastic at the wrist (both sides) that more obviously tapers the gloves. The palms have a cool stitched "double padded palm" that is not screen-accurate (Max's gloves have a smooth palm), but I like it.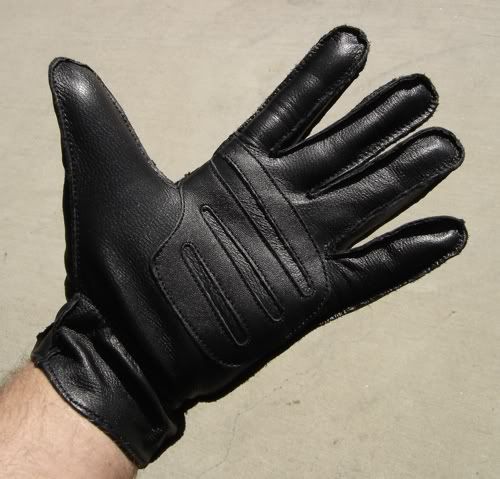 The exterior padding is thicker (just strips of foam rubber, no fabric) and more screen-accurate. As mentioned, there is padding on the thumbs. Unstitching and removing the thumb pads left a line of holes (see 4-up picture below), but I'm hoping they become less noticeable with use.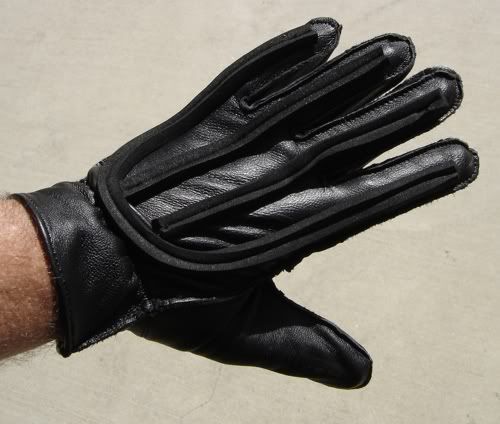 Approx. $30 US including shipping.
Neither glove is completely screen-accurate, but for overall look and fit (not to mention price), I'm sold on the Motobikers. AbbyShot's policy won't allow me to return my gloves for a refund, so I guess I'll be selling them.