I finally got my camera fixed, cost a lot of $$$ but now I can show you guys pictures of this idea I've had in mind --- a Mad Max stop motion animation series; it's in its early stages of development. I am trying to juggle school, work, and this idea together. I really want to take out the first episode by January 2008.
The pictures below are of the marauders and their vehicles. There are many more to come. For now, keep in mind that these characters and vehicles pictured are works in progress. There is still a lot of work to do and I will update frequently.
Wez and his Monster Bike. Monster Bikes are much bigger and more powerful than ordinary motorcycles.
A Monster Quad; larger wheels than an ordinary quad. Holds 2 passengers. Gasket is the driver.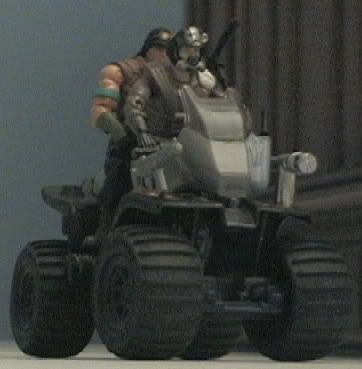 Runamok is the name of this pickup truck. yes that is a bad cop manning the main gun.