I wanted to make an improved version of my Road Warrior leather jacket, and after a long search on the internet, the closest match I found is the Evel Knievel Mens Black Genuine Leather Classic Motorcycle Jacket.
Pros: First off, is doesn't have that silly little 'key pocket' on the front that so many motorcycle jackets do. The two pockets on the front are in the correct spot and they are the correct size. The wrist sleaves have zippers in the correct place as well. The collars are also correct. On the back there is only one horizontal seam, also correct. Lastly, on the inside (if it matters to you) it has a satin liner covered by a mesh liner. That's good because there is no insulation to overheat you.
Cons: The first thing to hit me was that they used 'cobbled' leather for this jacket; heavy texture or whatever you want to call it. You can't even tell from the advertised pictures (unless I missed it). I don't think it will matter much, but I really wanted the plain, smooth leather. The jacket has epaulets, which I'm going to remove. The way I see it, Max's jacekt is supposed to be a little beat-up, so I don't think it will matter. All of the snaps on the jacket are a dark grey gunmetal color, not the nickel that they should be. They also have "EK" stamped on them. But removing them and adding in plain nickel snaps is no big deal. The zippers are also the dark grey gunmetal color, and I may see about getting them replaced. The jacket does come with leather pulls on all the zippers, but they can simply be removed.
On the inside the jacket has two pockets; they don't affect the accuracy of the jacket at all, I would say.
I found mine on eBay for $79.00 + shipping. Online stores have them for about $90.00 +shipping. This jacket may be a good alternative to the South Beach Mad Max 2 jacket, which is going for about $152.00 + shipping. I was hesitant to buy a South Beach jacket because of the price, the language barrier (and when you are giving your measurements to them along with custom modifications there is always the chance of something getting screwed up), and because I've heard that some didn't get what they ordered.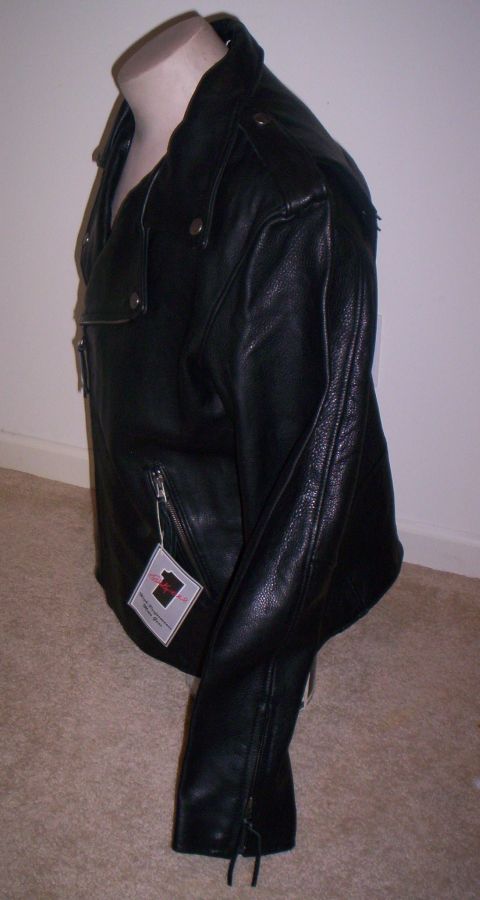 So now I have to work myself up to cutting the sleave off of a perfectly good, brand new leather jacket. Then I have to weather it up, too! I'll keep posting pics of my progress.
Now that I have some hands on info and pictures of it, I'd like to hear what the experts have to say. Karol? Jared?
HUMVEE Driver